In anticipation of Demo Day, we have spoken with a few of our Software Development Bootcamp students to gain some insight into their Capstone projects that they will be demoing on April 23rd. During the last 3 weeks of their bootcamp, students form teams and use their newfound programming skills to pair up with real companies and solve real technology problems. Each team works directly with a company, communicating and collaborating, replicating what it is like to work with a real client.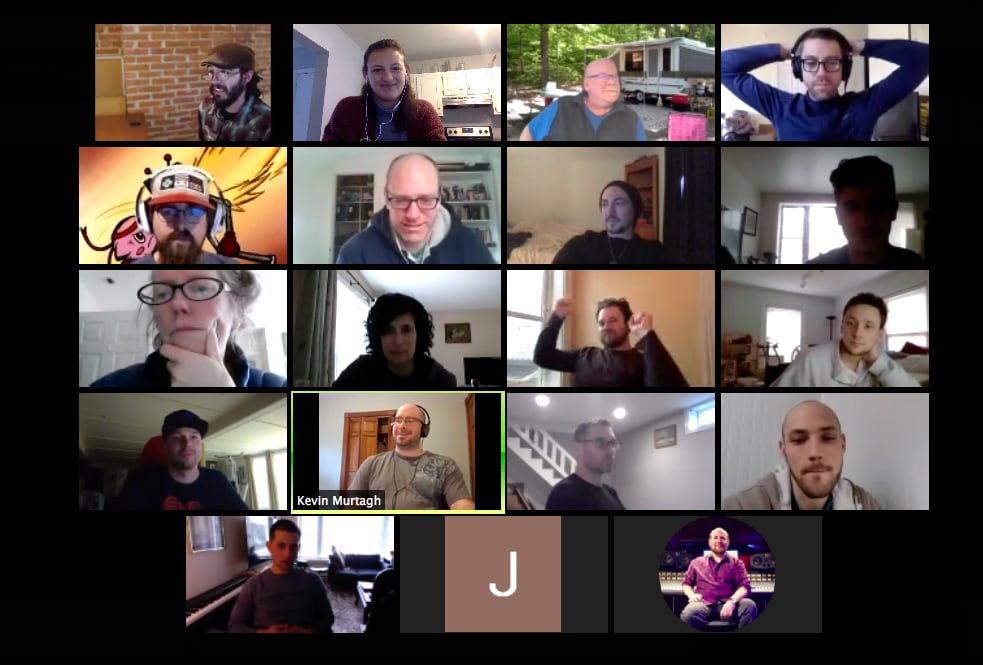 Paul Phelps is a software development student who began his time with Burlington Code Academy before most of his current peers. After attending the part-time Javascript After Hours course in 2019, Paul was offered the Pathways Scholarship, which gives students who complete a part-time course the opportunity to attend a full-time bootcamp at a reduced price.   Paul has advanced from a part-time student, to a full-time student now at the tail end of his studies.
Paul's capstone project team is working directly with Audubon Vermont to create a Peregrine Falcon Observation Report Form; using the coding skills they have developed, his team has taken this capstone project as an opportunity to streamline the process of recording wildlife data. Paul noted that this project is all about "quality of life," saying that:
"Before our program, Audubon was hand-recording all their data, receiving emails every time someone submitted a form to an existing template. It wasn't sustainable."
By improving Audubon's data collection technology, Paul's team allows Audubon Vermont's staff to spend less time inputting data manually, giving them more time to interpret their findings. With the assistance of Paul and his team, Audubon Vermont is free of the hassle of manual data collection and can better continue their tremendous efforts in wildlife education and conservation in the state of Vermont.
Mike Muzzy, a member of the group building an application with Park Burlington, has worn many hats during his time in the workforce. After receiving a Computer Science degree from Champlain College in 1983, Mike ventured into the car industry. From being a mechanic to the director of a regional non-profit, Mike has a valuable range of experience that he brings to any project he's working on. 
Mike's team is tackling an age old issue: parking. Working directly with Park Burlington, Mike and his peers have taken on the challenge of developing a user friendly parking app, equipped with an interactive map and real-time updates. Mike is confident that this project will be utilized by real-world customers in the near future. When asked how Mike's time as a student has been, he replied: 
"Everyone at BCA– Benny, Alex, Josh, Bob and Sadie– everyone. They are all in. They work for what the students need. You guys are all in."
Sara Ritter is a software development student whose background in chemistry and mass spectronomy gave her an interesting perspective coming into the classroom. Sara says "Seeing the capabilities of technology first-hand in the lab allowed me to see the value in a course like this; working in a toxicology lab, I saw machines that could do my job in half the time. This fascinated me." Sara and her group are working with Ceres Greens, a vertical farming company dedicated to supplying Vermonters with fresh local produce year round. Her team's project centers around creating a data gathering system to measure plant growth operations. By creating automated software that measures all environmental growth factors, Sara's team is able to methodize and streamline data recording for Ceres Green. With this new system in place, Ceres Green will spend less time manually tending to their plants, see an increase in productivity and heighten the overall consumer experience.
The students of Cohort-3 are putting the finishing touches on their capstone projects, and wrapping up the final stages of their software development training. Starting their education as full-stack software developers just 12 weeks ago, this group of determined and exceptionally gifted students have put in the work, and are now preparing to apply for jobs and start their career in tech. Although these unprecedented times have required adaptation and a complete transition to online learning, our commitment to community connection remains stronger than ever. 
We are thrilled to be launching our first-ever remote Demo Day; the students will take to Zoom on Thursday, April 23rd to demonstrate their capstone projects. We encourage all who are interested to hop online with us, join the dialogue, watch some awesome project demo's and celebrate our students' hard work alongside our community.